Steven Hogg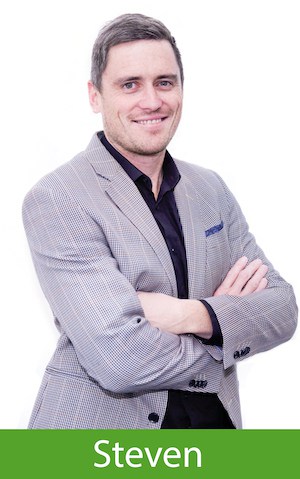 Before joining the Home Loan Shop, Steven enjoyed a successful career (10+years) in the banking industry with a particular focus in the home lending space and helping customers achieve their goals. Steven has a wealth of knowledge in regards to the home loan and home buying process and is happy to share his knowledge with you. Steven is passionate about creating a personalised service with his clients from start to finish.
"In my spare time you'll find me spending time with my wife and two kids, socialising with friends and family, learning te reo Māori, keeping fit, enjoying the outdoors or sipping on a beverage!"
Phone: 04 384 5700
Mobile: 027 755 4439
Email: steven@homeloanshop.co.nz
Steven's disclosure guide
Some thoughts from Steven's clients

Katie Mead
21:43 08 Jun 21
Great service from the team at the Home Loan Shop, Steven was a pleasure to work with. He was very knowledgeable and gave us all the information we needed as were first home buyers, Steven made us felt comfortable to ask any questions we had and made the process very smooth with no delays or dramas.

Miriam MacMurray
08:41 20 May 21
Wonderful service 🙂 Made buying a house so much easier than expected! I would definitely recommend Steven Hogg, he was available when we needed him - very committed!

Edward Bailey
23:16 06 May 21
We went through the Home Loan shop through the recommendation of a colleague. It was a fantastic decision as Steven Hogg was thoroughly professional throughout the process. He worked quickly to ensure we could put an offer in on a property that we ended up securing. For anyone looking to use a mortgage broker I highly recommend going through the Home Loan Shop and Steven Hogg.

Courtney Tokorangi
21:35 06 May 21
I am so pleased we went with The Home Loan Shop to assist us in buying our first home. Steven made the whole thing so much easier and it really took some of the stress off of what is an intense process. All the way throughout we felt supported and informed and definitely could not have done it without them. Cannot recommend them enough!

Jared Solloway
22:55 21 Apr 21
Fantastic help from Steven Hogg getting our first home purchase and mortgage. Highly recommended

Jonatan Jaworski
22:37 13 Apr 21
Steven has been amazing throughout the process. Very supportive, proactive, patient and clear with his guidance. Highly recommended!

Kaine Thompson
02:58 08 Apr 21
After "shopping" around we landed on Steven H at the Home Loan Shop. It can be difficult to figure out who to go with and that's after deciding whether to fly solo or use a broker at all.Glad we did... Steven is fast and responsive, informative and patient, thorough and insightful. His experience, knowledge and awareness of all the tricks and hooks makes a big difference.I've already recommended him and the team at HLS but I can't recommend them more highly. The end to end service, the thoroughness and client care throughout is fantastic. We also used Matt G to help with personal insurances, again a member of the team who knows his stuff and worked hard for what we needed.Everyone says "oh, go see our guy". Seriously, go see our guy.

Sarah Rowley
20:55 07 Apr 21
As a first home buyer I was a bit nervous and needed some extra support. Steven was so supportive through the process and took time to explain things and reassure me. I would absolutely work with Steven again.

It took a long time working through our refinance for our renovation. Steven was so patient and really helpful throughout the process. We got what we needed in the end with Steven's help.We would absolutely recommend him to any of our friends or family.

Alli O'Donnell
18:45 21 Mar 21
Steven went above and beyond to ensure the process of buying our first home was as seamless as possible. He is professional, hardworking and full of knowledge. We felt supported every step of the way. Would recommend him and his team at the Home Loan Shop to anyone!

Haydn Greatnews
21:47 02 Mar 21
We worked with Steven Hogg here, who was very good at figuring out what we needed, and helping us towards buying our first home. He worked every angle to save us money on the setup fees, and knew all the right questions to ask. I would highly recommend him, and the Home Loan Shop in general.

Stephen Walter
11:09 22 Feb 21
Multiple time this outift has sorted us out with good advice and great outcomes. Steven Hogg this time around went above and beyond and really delivered for us - he's a hard worker who really knows his stuff. Great to have him on our team.

My partner and I were very impressed and appreciative with the service we received from the home loan shop and Steven. It was our first time applying for a mortage so it was new territory for us. But Steven made what would've been a complicated process easy. He was always happy to answer any questions we had and kept us updated with what stage of the application we were at. We couldn't have done it with him and would definitely recommend him to anyone looking to apply for a mortgage.

Liam Driver
07:19 09 Feb 21
Steven was an awesome mortgage broker, he made the process easy and stress free. Highly recommend!