Steven Hogg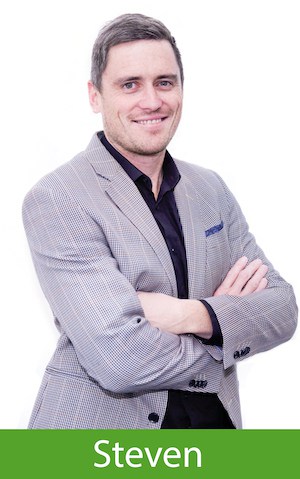 Before joining the Home Loan Shop, Steven enjoyed a successful career (10+years) in the banking industry with a particular focus in the home lending space and helping customers achieve their goals. Steven has a wealth of knowledge in regards to the home loan and home buying process and is happy to share his knowledge with you. Steven is passionate about creating a personalised service with his clients from start to finish.
"In my spare time you'll find me spending time with my wife and two kids, socialising with friends and family, learning te reo Māori, keeping fit, enjoying the outdoors or sipping on a beverage!"
Phone: 04 384 5700
Mobile: 027 755 4439
Email: steven@homeloanshop.co.nz
Some thoughts from Steven's clients

We had a great experience with Steven Hogg. He was super helpful and friendly and went out of his way to get us a quick turnaround with the bank.

Sean & Rachel
07:43 07 Jun 22
We bought our first home with the guidance and expertise of Steven Hogg. Throughout the process he was fantastic to deal with - friendly, helpful, informed and honest. Communication was excellent, Steven was always available for a phone call or to meet in person and chat through options. The process was so smooth thanks to him. Would highly recommend to anyone and everyone!

Te Miri Rangi
03:35 18 Apr 22
Absolutely recommend the team at the Homeloan Shop. Steven helped us arrange all of our banking needs through the sale of our property and the purchase of another. Quick to respond at any time and goes the extra mile

Amelia Clareburt
02:54 13 Apr 22
Steven Hogg was a huge help in getting our loan approved. Always would follow up and would be there to support if we had any questions 😄 Thoroughly recommend Steven and the home loan shop team.

Natalie Lorenzana Scott
04:07 29 Mar 22
Great communication and very responsive. Steven was personable and professional. Highly recommend.

Malachi Broughton
07:39 06 Mar 22
3.5-4/5 - Steven was a great mortgage advisor with lots of knowledge but given the property market (at the time we purchased) there was lots of demand and clients for the home loan, so our mortgage broker wasn't able to give us as much attention and coaching as we needed. The problem was more to do with coaching and getting undivided attention rather than our broker being bad (he was good and knowledgeable). We needed to be coached through the process and have our hand held through every detail. If things weren't as cray we probably would've had a better experience

Steven Hogg has been super helpful in our journey to (finally) purchase a home. He is very professional and extremely experienced. We particularly appreciate his patience as we missed out on a few options throughout the year before we finally got something. There were uncertainties at times (e.g. intense market competitions, then followed by lending restrictions etc.). But Steven was always there to support us and help us to deal with those changes, by giving timely and honest advice. We'd strongly recommend Steven and his team!

De'arna Sculley
21:37 10 Feb 22
Thank you Steven , Emma and team for your guidance and excellent work settling our mortgage, these guys were efficient, professional and made the process so easy! Would definitely recommend the home loans shop

Sarah Jones
07:36 20 Jan 22
Steven was a big help sorting out my mortgage - helped me out with many issues along the way. Thanks!

Catherine Churchman
09:20 18 Nov 21
I was completely mystified about how to arrange a home loan, but Steven did a great job of laying out the process clearly and describing the various options in detail (one of which I eventually went with) and helping me through the process. Definitely recommend!

Aoife Cahalin
06:51 17 Nov 21
Worked with Steven Hogg to buy our first home. He was so helpful and supported us through the process. Would recommend to anyone.

Caitlin Sercombe
05:37 07 Sep 21
Steven Hogg from the Home Loan Shop worked with my partner and I to purchase our first home. Steven is knowledgeable, supportive and was prompt throughout the process. We are very grateful for his help and highly recommend his service!

Noeli Tortul
05:16 07 Sep 21
Steven and his team has been amazing throughout the whole process, from the day we contacted him till they day we got they keys of our first home. Very supportive, proactive, kind, patient and clear with his guidance. Highly recommended!

Sarah Paxton
22:04 19 Aug 21
Steven at the Home Loan Shop was amazing! He was quick, helpful and super informative!

Steven De Longchamps
06:05 31 Jul 21
Great service from this place! Would highly recommend both Callan and Oli. I was a first time home buyer and they made the process super simple and kept me informed and advised along the way!

Rueben and Katie K
21:40 28 Jul 21
Steven was extremely helpful dealing with our refinance. Second time we have used The Home Loan shop, and it won't be the last. Great connections which completed the process with tight timelines.

Jonathon Kearney
23:23 06 Jul 21
Steven and the team were great. Quick to respond and professional. Would definitely recommend.

Marc Wakeling
23:07 26 Jun 21
Would highly recommend The Home Loan Shop to prospective first home buyers. Steven was a pleasure to deal with in purchasing my first home and he guided me through the whole process so smoothly. He was extremely responsive to any queries I had and sorted loan approvals with banks efficiently even when I was on a tight deadline. Thanks Steven and The Home Loan Shop!

Had a great experience with the Home Loan shop. Steven and Sloane were supportive, informative and total pros to deal with. Would recommend to anyone buying a home in NZ.