Steven Hogg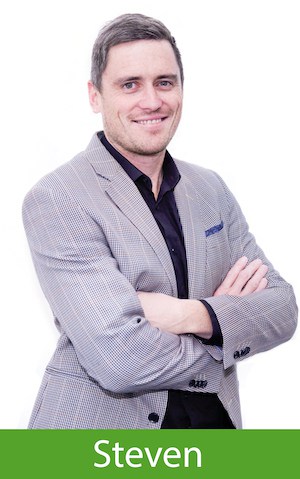 Before joining the Home Loan Shop, Steven enjoyed a successful career (10+years) in the banking industry with a particular focus in the home lending space and helping customers achieve their goals. Steven has a wealth of knowledge in regards to the home loan and home buying process and is happy to share his knowledge with you. Steven is passionate about creating a personalised service with his clients from start to finish.
"In my spare time you'll find me spending time with my wife and two kids, socialising with friends and family, learning te reo Māori, keeping fit, enjoying the outdoors or sipping on a beverage!"
Phone: 04 384 5700
Mobile: 027 755 4439
Email: steven@homeloanshop.co.nz
Some thoughts from Steven's clients

Mariyam Potres
11:21 18 Jan 21
Steven Hogg is an excellent, knowledgeable and professional mortgage broker. He went above and beyond to help us achieve our goal of buying a house which seemed rather impossible in these trying times and the current housing market.The entire process was pain-free and very smooth sailing. I would definitely recommend Steven's exceptional services and The home loan shop to all my family and friends.

Claire Lane
08:41 21 Dec 20
I would highly recommend the Home Loan Shop team to anyone! Steven was really knowledgeable and communicative, and able to get quick responses from the bank which was invaluable in such a crazy market (definitely wouldn't have got the property I did without his speed and dedication). He was really on top of things and provided great personal service. Ngā mihi Steven!

Big thanks to Steven Hogg for all his efforts. He is such the professional and I recommend Steven / The Home Loan Shop to anyone buying a house or refinancing their current mortgage.

Steven Daw
21:56 13 Dec 20
I've set up a number of home loans with Sloan McPhee at the Home Loan Shop over the years. Sloan and the team always give the best advice and are proactive in following up the banks and me to get things over the line. Would recommend without hesitation

Bevan Hall
03:43 16 Nov 20
We thoroughly enjoy working with the team at The Home Loan Shop. Steven has been outstanding professionally and personally and you would be lucky to work with him. A+

Simon Cook
20:34 05 Nov 20
We are first home buyers (dealing with Steven Hogg). We found him to be an absolute legend.He explained every step of the process thoroughly, and was amazingly responsive from day 1. He managed to secure us multiple pre approvals with minimal effort from us, and stayed on top of when we were needing to get them updated.No question was too small, and his guidance made us feel really comfortable with the process.He was able to provide us with recommendations for Lawyers, Insurance Brokers, and pretty much anything else we needed, and everyone he sent us to has been great to deal with.We are now in our new house (and loving it) and looking back, dealing with Steven was easily to smoothest and most enjoyable part of our home buying experience. As a result, I would recommend Steven and the entire Home Loan Shop team to anyone.

Melissa Frickleton
20:05 15 Oct 20
We had the pleasure of working with Steven from the Home Loan shop- he is amazing. Very professional, organised and responsive. The amount of effort he put into us and our situation was outstanding and I cannot thank him enough. I would highly recommend him to anyone who is wanting/needing pre approval for a first home!

Joanne Irain
07:56 14 Oct 20
Steven was amazing. He was extremely professional, kept us informed all the way through and made the whole process really easy. He came up with solutions and helped us to get a great outcome. Very happy customers!

William Langley
10:25 30 Sep 20
Held our hands through the process and even saved us from purchasing a potential leaky home. Could not recommend Steven and the Home Loan Shop team more!

Jesse Dawson
22:55 22 Sep 20
I had the pleasure of having Steven Hogg assist me with my first home purchase. He and his team were able to take what seemed like a daunting task and turn it into series of achievable steps with assistance all throughout. I found the process to be completely transparent without any indication of being pressured at any stage. Steve was able to help formulate a deal that worked right for me, and I would not hesitate to use the Home Loan Shop again in the future.

Sam Dunleavy
21:19 15 Jun 20
Steven Hogg was my mortgage broker and offered great advice, he worked hard of my behalf to get me the best rates possible for my situation and was always very timely and professional in his communication. I would highly recommend Steven and The Home Loan shop.

Graham Barbara
22:52 27 May 20
Steven was very easy to deal with and made the prospect of getting a mortgage actually a positive experience. He was friendly, knowledgeable and always available when needed. I would have no issue going back to Steven again, or referring friends and family onto him as well. Nga Mihi,