Stevie Wallace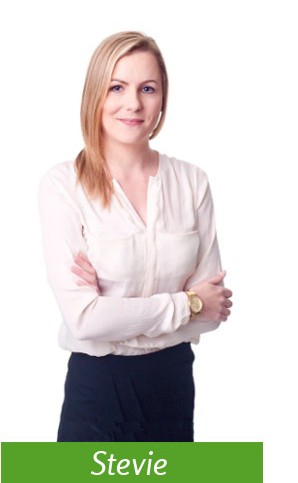 Stevie joined the team in August 2015 after 5 years working with a major bank. She has a background in Business Banking and graduated from Victoria University with degrees majoring in International Business, International Relations, Spanish and Commercial Law. Stevie loves to travel having spent time living in Hawaii, San Francisco and Reconquista in Argentina.
"In my spare time you'll find me catching up with family and friends, getting out of the city and exploring our beautiful countryside"
Phone: 04 384 5700
Mobile: 027 685 9652
Email: stevie@homeloanshop.co.nz
Some thoughts from Stevie's clients

Kristin Svendsen
22:39 27 May 20
Stevie and Matt from the Home Loan Shop were an excellent help in getting our mortgage and insurances sorted. They took the stress out of buying our first home and were always happy to answer any questions we had. I highly recommend both their services!

Dorothy Sanchez
07:03 21 May 20
We were catered by Stevie, and we were very pleased with her service. She helped us go through the process of buying our first home. She also referred us to the right people which were also very great. We highly recommend them.

Kate Nicol-Williams
08:47 18 Feb 20
Stevie at The Home Loan Shop was great to deal with when we were getting a mortgage for our first home. She is knowledgable, patient and friendly, and secured us a great deal. I would recommend her to everyone.

Becks Collier
23:19 25 Nov 18
Great experience with Callan and Stevie! They made the whole process easy and also negotiated me the best deal for my circumstances. Highly recommended!

Jaime Walsh
08:25 31 Oct 18
My partner and i worked with Mark and Stevie at The Home Loan Shop and it was by far the best relationship we have had with a mortgage broker! We feel Mark went above and beyond and exceeded all our expectations with helping us secure our second family home. He kept us updated every step of the way as requested, and always answered our emails in a timely manner. Mark is super friendly, has a great way of communicating with people and made us feel at ease through the whole process. We 100% recommend Mark and the team at The Home Loan Shop and our family can't thank him enough for all his time and hard work.

Joshua Candish
21:52 24 Oct 18
My partner and I worked with Mark Cook and Stevie Wallace at the Home Loan Shop to secure our mortgage and first home purchase. I genuinely can not speak more highly of them, their hard work ethic, how they went so far above and beyond for us in all aspects, their efficiency, their knowledge blew my expectations out of the water.As anyone looking to buy their first home can understand, there is a lot of unknowns and uncertainties around how everything works, in all our correspondence with Mark he walked us through everything in detail and made the whole process seem so much easier taking all the stress and worry away. They really know this business inside and out, you couldn't be in safer hands.We couldn't be happier and I couldn't recommend these 2 more highly. Thanks so much Mark and Stevie, you guys are the real deal!!!

Dmitry Severinov
21:49 24 Oct 18
Mark and Stevie were recommended to us by ourfriends, and although the expectations were alreadyset high, they totally managed to exceed them. Ourswas the easiest and most stress-free first homepurchase I have ever heard off, all thanks to theprofessionals from Home Loan Shop.

I would very highly recommend Callan and Stevie . They are the professionals.Because of them,we were able to purchase our first home.With us being the first home buyers,with less or no knowledge about how things work.Callan and Stevie supported us throughout. They gave us their professional advice on each and every process.Callan and Stevie were very easy to approach for any of my questions. Way to go guys. You guys totally rock.The stars of Home loan shop.

Kat Raureti
06:13 04 Oct 17
Mark and Stevie at the Home Loan Shop are home buying angels and I couldn't recommend them enough! There is absolutely no way we could have bought our first home without their help. I approached them with a slightly pessimistic view on our chances of being able to get a loan after speaking to a couple of other brokers, but with their expertise, constant guidance and genuine passion for helping people, we got approvals and a house in just over a month! I had no idea on how the process worked, so I was incredibly anxious about everything, and between them both my nerves were always put at ease and they always responded to any questions straight away. Amazing service from genuinely amazing people! Our young little family cannot thank them enough!

Vanessa Olliver
23:18 02 Aug 17
Callan and Stevie from the homeloan shop are amazing! They helped us get into our place and got everything approved for us fast and efficiently, they really worked hard to get us the best deal and also got us great interest rates! Friendly genuine and really down to earth people, highly recommend and would definitely use them again

Lou Gallagher
23:42 26 Jul 17
This is an excellent team - they have made the process of getting a loan to buy land and build a house very easy for me! I tried a few previous mortgage brokers and was so relieved when a friend recommended Callan and Stevie - everything worked out splendidly.
Next Reviews