Nelson Ford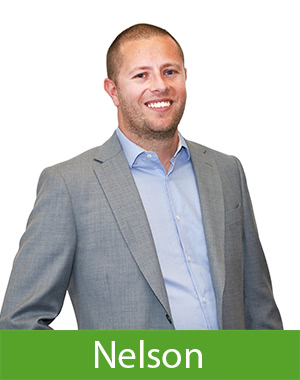 Nelson brings 16 years experience from the banking industry, where he has had the privilege of working with clients from all walks of life. He has an authentic, down to earth approach and prides himself on building trusted relationships by guiding his clients every step of the way.
"In my spare time I enjoy playing basketball, fishing and hiking in the beautiful Tararuas."
Phone: 04 384 5700
Mobile: 027 663 5766
Email: nelson@homeloanshop.co.nz
Some thoughts from Nelson's clients

Ursula Murphy
22:52 28 Jun 22
Nelson was efficent, freindly, and extremely professional. He walked the talk in regards to getting things done in a super quick time. After wasting time trying to deal with banks directly, Nelson was a breath of fresh air. I could not recommennd him enough.

I got in touch with Nelson when I had no idea where to start and how, I was not very confident then Nelson came along and guided me throughout the home buying process with ease and patience. you supposed to just set my mortgage but you went beyond and helped me with every process end to end including but not only limited to organising important contacts, educating me with pros and cons of every process, you always made sure that I was OK and any have any questions. Thank you your contribution towards purchasing my first home is highly valued and acknowledged. Thank you once again for everything and I look forward to work with you again in near future.CheersYam

Emma Gough
22:17 19 Jun 22
I would give 6 stars if I could! This was our second time working with the team and Nelson Ford was truly fantastic, easy to work with, super efficient and got us the best rates by far. I can't recommend the Home Loan Shop enough.

Reuben Jensen
01:44 01 Jun 22
Nelson was super helpful. Straight up, honest and clear advice about our options. As first home buyers he made the whole process feel much less daunting! Highly recommend!

Isabela Monteiro
00:03 01 Jun 22
Nelson was extremely patient with us.Being a first home buyer can be overwhelming and frustrating in so many ways, but I'm glad we had him to help us out and answer all of our questions (sometimes more than once haha) and put the effort to assist us in getting the best offer we could get.I already recommended him to a few of my friends, and I'm sure they will have a great experience as we had.Thank you kindly,Isabela and Gui

Stephen Reid
08:58 18 May 22
Can't recommend Nelson enough. He was excellent in helping us find a home loan that worked for us for our first home. He's very friendly, patient and professional. We really appreciated his time and efforts in guiding us through the whole process.

Richard Nottage
20:24 07 Mar 22
Nelson was an incredible help. Ours was a reasonably complicated lending situation but Nelson managed the process flawlessly. He secured the lending and removed a considerable amount of stress. Nelson is very personable and we could not recommend him or the Home Loan Shop highly enough.

Kristian Day
06:29 20 Dec 21
Nelson was absolutely primo to work with. From the moment we first made contact all the way up to settlement he was responsive to all our emails and questions.Buying your first home in the Wellington market isn't easy, and having someone like Nelson on your side through it all really helped make the whole process easier.10/10 would recommend.

Laura Hook
19:03 16 Nov 21
My partner and I worked with Nelson Ford when we started to look to buy our first home. Nelson made the process easy, he was able to clearly explain the process in manageable steps, he was always contactable and responsive when required. We both thoroughly enjoyed working with Nelson and would highly recommend him to others.

Jacob Buck
07:55 14 Nov 21
Nelson and Matt from The Home Loan Shop Wellington provided us with invaluable knowledge and guidance throughout the home buying process which enabled us to successfully purchase our first home. They were very professional and patient given our lack of experience and very responsive to our enquiries. We'd be happy to recommend them and The Home Loan Shop for anyone looking to buy their first home.

Sam Haines
01:52 29 Oct 21
Helped us out a lot buying our first home and stuck with us all the way, we definitely couldn't have done it without all their help. Big thanks to Nelson!

My partner and I had seen 3 other mortgage brokers previously, they all made it sound so complicated and hard. A friend suggested we go talk to Nelson and we're so happy we did. Nelson made everything easy and stress free and walked us through the entire process while answering any questions we had along the way. Thanks for all your help Nelson!

Marie Jupp
20:34 06 Oct 21
A big heartfelt thank you to Nelson Ford who helped us navigate a challenging experience, in the middle of Level 4. Nelson your calm, knowledgeable manner and advice kept us sane. End result - amazing. I highly recommend Nelson for anyone needing mortgage advice and assistance.

Jason Brown
07:29 24 Sep 21
The most awesome, positive and personal service we have ever received. With out Nelson's positive attitude and great communication with us we would have never bought our new house. Personally we can not speak more highly of him. Thank you so much.

Anshul & Aakanksha Gupta
06:12 07 Sep 21
Nelson…Nelson…Nelson all we can say when home loan comes to our mind. We were told not only by friends but immediate family too that home loan is a tiring and troublesome process. But the experience we have had through the home loan shop was a charm or should say walk in the park. Absolutely stoked on how easy it is to work with them and what great experience they give to their customers. I have already referred a few friends and will be referring heaps more to get your home loan sorted from the THE HOME LOAN SHOP. Thanks again Nelson. Bless you mate.

VIVEK MANOCHA
20:17 31 Aug 21
Fantastic , Professional ,Quick response and easy to deal with. Takes away all the hassle of doing the leg-work yourself! Can I give you more than 5 stars!!! Thanks Nelson.

fiona fayen
02:06 27 Aug 21
We have had the best experience with Nelson and the Home Loan Shop. No questions went unanswered and he was so available to us. Would recommend Nelson to anyone who is looking to buy their home. You can't go wrong with Nelson on your team...Jackson, Tealo and Fiona.

Emily Kraakman
22:43 22 Aug 21
Highly recommend working with Home Loan Shop. Nelson Ford helped us secure a mortgage under some pretty tricky circumstances, and we couldn't be more thankful for his help and guidance. His knowledge of the market and lending really helped us understand the process and set our expectations. Really helpful if you are buying your first home! Thank you Nelson and the Home Loan Shop!

Craig Thornley
22:47 20 Aug 21
I worked with Nelson from the Home Loan Shop and he went above and beyond to help us. He was very flexible with doing the whole process remotely over phone and email and spent a lot of time helping us out when the purchase process hit a few speedbumps.

Steve and Rebecca Riley
01:57 04 Aug 21
Nelson from the Home Loan Shop was a real pleasure to work with. We were struggling to get the service levels we expect from our current bank, Nelson was very quick to provide some solid options to move forward. We are now with a bank that values our business and this is a big weight off our shoulders. Thanks Nelson and team, great to also know the relationship is ongoing and you are there for us if we ever have a similar situation in the future.

Nelson has been very helpful in assisting us to purchase our first home. Not only has Nelson assisted us with getting finance approved but he has also walked us through the entire purchasing process.We have found Nelson to be very personable and willing to go the extra mile. Thank you Nelson for your all help it is greatly appreciated. We highly recommend Nelson to anyone who may be looking to buy a house. Simple Fast Approved.

Jolene Botha
19:39 19 Jul 21
We had an amazing experience with the selling of our house! Would highly recommend Nelson at The Home Loan Shop. Always on call for any queries or questions we had. With great advise and always had our best interest in mind.Fantastic service!

Michelle Anderson
21:50 18 Jul 21
Nelson from the Home Loan Shop has been an awesome person to have on our team as we applied for our home loan. Great advice, professional and responsive - Nelson has made the process feel easy. We recommend Nelson and the Home Loan Shop if you're looking for quality support and advice in relation to buying a property.

We approached the home loan shop based on the good reviews online, and were not disappointed by the assistance Nelson provided us during our first home buying journey. Nelson is a great communicator, making the process clear and easy to follow, and he answered all our questions in timely and easy to understand fashion. He's a sensible and down to earth guy who knows his stuff and was able to sort out a home loan for us that suited out specific situation. Would definitely recommend!

Eric Boamah
00:57 15 Jun 21
The Home Loan Shop is just awesome. Nelson is an angel. I don't know what my family would have done without the help of Nelson during our recent house purchase. His friendly, calm, and reassuring demeanor put our hearts to rest when the situation got though. Right from searching for the initial offer from banks, through to the settle process. Always smiling and encouraging us that it shall be well, and it did. His support and guidance made the journey not just possible but also easy, giving my family the chance to focus on our work and still getting through this complicated process of purchasing our first house in New Zealand. Highly recommend The Home Loan Shop for all home buyers.

Nelson from the Home Loan Shop was an absolute star, he was so patient (with all our questions) and responsive. His relaxed but attentive approach was all the support we needed as first home buyers. I would recommend him to anyone.
Next Reviews