Callan Wayne-Bowles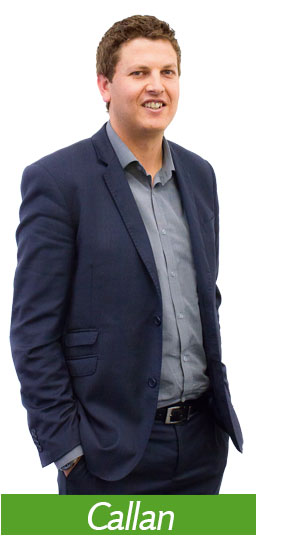 Callan Wayne-Bowles graduated from Victoria University with degrees in Accountancy and Commercial Law. He has over 12 years of experience working with major banks and has with him a wealth of knowledge that is most helpful for home buyers.
Callan, also specializes in business and commercial finance propositions, property investment and developments, mergers/acquisitions, franchises, and start ups. Callan loves finding ways to structure deals that best suit his clients.
"I enjoy getting out on the boat for a big day of fishing!"
Phone: 04 589 2181
Mobile: 027 346 3268
Email: callan@homeloanshop.co.nz
Some thoughts from Callan's clients

Callan from the home loan shop was instrumental in us being able to buy our first home. He walked us through the process end to end and was always available to answer questions and give us valuable advice.

Hana Edwards
00:52 20 Aug 20
Best Mortgage Brokers around.So calm and patient. Even when I was emailing a thousand times a day with tiny questions about this and that, they were always so friendly and kind.I felt so supported and informed about the entire process.Callan and Angela are the absolute bees knees and I would highly recommend them to everyone!

Todd Heslin
21:05 04 May 20
Can't speak highly enough of our experience with Callan and Angela from the Home Loan Shop. They helped us through a tricky application process during very uncertain times. Definitely worth a call to chat with them.

Nick Foster
21:25 23 Jan 20
Callan and the team were hugely helpful in everything, from finding a suitable property to securing a great rate and answering all the questions a first home buyer might have. You won't regret paying them a visit!

Ashlee Cuneen
05:35 03 Dec 19
Such amazing, professional people to deal with. They have gone above and beyond to help me buy my house. I have used Callan and the team twice now, and recommended them to all my friends and family, who have had equally as fantastic experiences. I couldn't recommend them enough.

Emma Harris
01:10 03 Dec 19
Callan and his team are fantastic! They are responsive, easy to deal with and work diligently to get you the best possible rates. Thanks again for all your help.

Kat Miller
22:10 11 Nov 19
Callan could not have been more helpful with the purchase of our first home. We had no agent as it was a private sale, so Callan really went above and beyond to support us and walk us through this process which was completely new to us. Angela was also really helpful and provided us with regular updates on the approval process of our home loan. We are really happy with the home loan that they arranged for us. Thanks guys!

Ryan Berger
21:35 30 Oct 19
We are first time home buyers. Home loan shop are an amazing team that took so much of the load off of our shoulders. When we were unsure of anything they gave advice and reassurance. In our situation we needed a fast turn around and they were the only reason we got this house. We cannot thank Callan and the team enough. Highly recommended

Taina Campbell
21:45 23 Sep 19
Callan & Angela provided us with excellent service. We would never hesitate to use you guys again and we will recommend you to anyone needing a mortgage.

Marie Cocker
05:43 15 Aug 19
Absolutely incredible, efficient and painless . Callan went the extra mile to help us out. I honestly believe if it wasn't for Callan we would be still renting. The team were there at any moment via text, email and phone, nothing was too much trouble, More importantly him and the team recognise the stress buying a home can be so go the extra mile for you to ensure they validate any concerns , answer questions and basically just are at the end of the phone.We also need to acknowledge Angela and Emma, when Callan wasn't available, these two picked up and went with it, they knew where we were at in the process, so obviously team communication is spot on, so no repeating ourselves. The whole process was seamless and smooth transition between consultants.For anyone out there even just thinking about buying, go and see these guys. We didnt even realise it would be possible, first approach to me felt like we were dreaming, but somehow they made it happen!Can't thank you guys enough!!!! Oh and for the record, we now have the keys for our own home 🙂 Bloody brilliant!!!!

Maryanne Roberts
06:03 14 May 19
Thanks to the Home Loan Shop - Callan and Angela were fantastic. Made the process so easy and achieved everything I wanted.

Becks Collier
23:19 25 Nov 18
Great experience with Callan and Stevie! They made the whole process easy and also negotiated me the best deal for my circumstances. Highly recommended!

South Coast
08:50 22 Aug 18
Callan at The Home Loan Shop has been my mortgage broker for more than 5 years and have always provided me great customer focused service to get the best deals possible. He is very easy to deal with and his industry knowledge and rapport with the major banks makes wading through banking red tape simple. I definitely recommend The Home Loan Shop

Cameron Johnston
23:04 15 Aug 18
Callan made the process of buying a house so easy for us! The Home Loan shop's simple easy to use online application is a painless and quick process, and Callan's experience and expertise helped with how best to structure our loans. Couldn't be happier. Highly recommend.

Kelsey Fly
00:48 13 Feb 18
Highly recommend going through The Home Loan Shop! My partner and I just bought a house, and Callan made the process as easy as possible with helpful information and referrals. Matt has sorted all our insurance needs (going above and beyond by checking with every possible insurer to find the best rates and coverage, always being responsive to emails etc.), and we also found a wonderful lawyer through the shop. For first-time home buyers or even if you've done it before, this is the place to go!

John & Wendy Bazley
21:50 02 Jan 18
Callan Wayne-Bowles provided excellent service when we needed it most. He supported us through a very stressful and exciting time with patience, professionalism and wonderful advice. We would not hesitate to recommend Callan and the Home Loan Shop to anyone requiring financial services and advice.

I would very highly recommend Callan and Stevie . They are the professionals.Because of them,we were able to purchase our first home.With us being the first home buyers,with less or no knowledge about how things work.Callan and Stevie supported us throughout. They gave us their professional advice on each and every process.Callan and Stevie were very easy to approach for any of my questions.Way to go guys.You guys totally rock.The stars of Home loan shop.

Callan was amazing to deal with. Very knowledgable and helped me all the way. I would definitely recommend him to family and friends!

ryan coombe
03:55 15 Aug 17
Callan at the home loan shop - easy to deal with, really helpful and was quick to provide us answers to questions when we had them (and we had loads). Being first home buyers and not knowing a lot about the whole process, he made us feel at ease and guided us along the way. We couldn't recommend Callan enough if you are looking for someone to deal with. Absolute top guy and top broker!!

Vanessa Olliver
23:18 02 Aug 17
Callan and Stevie from the homeloan shop are amazing! They helped us get into our place and got everything approved for us fast and efficiently, they really worked hard to get us the best deal and also got us great interest rates! Friendly genuine and really down to earth people, highly recommend and would definitely use them again

Lou Gallagher
23:42 26 Jul 17
This is an excellent team - they have made the process of getting a loan to buy land and build a house very easy for me! I tried a few previous mortgage brokers and was so relieved when a friend recommended Callan and Stevie - everything worked out splendidly.

Harry Giannios
01:37 13 Mar 17
Great experience with Callan and Team. Did a fantastic job in terms of providing some advice and direction for me, as well as getting great rates - better than I could do myself..Cheers Callan!!

Callan was absolutely amazing when we were looking to buy our first home. Made the process feel so easy. Would definitely recommend the homeloan shop to first home buyers!

Vivienne Sanders
07:57 08 Mar 17
I can't recommend the Home Loan Shop highly enough. We have used Callan a number of times to help us with finding the best rates among the banks. The end-to-end service is awesome and the level of service is the best I have experienced.

Glen Elliott
07:15 08 Mar 17
Callan was fantastic! Explained our options in a clear and concise manner, and helped us get our offer in while we were on the other side of the world. Made it all seem easy.

As always Callan and the team did all the hard work. Thankyou

Lea Raymond
10:04 22 Apr 16
As first home buyers we felt we were well looked after by Callan. He was very knowledgable and helpful throughout the entire process. We would definitely recommend Callan without hesitation and we will certainly be using his services again in the future.
Next Reviews